Maximum Slim NightTime Weight Loss
Product Description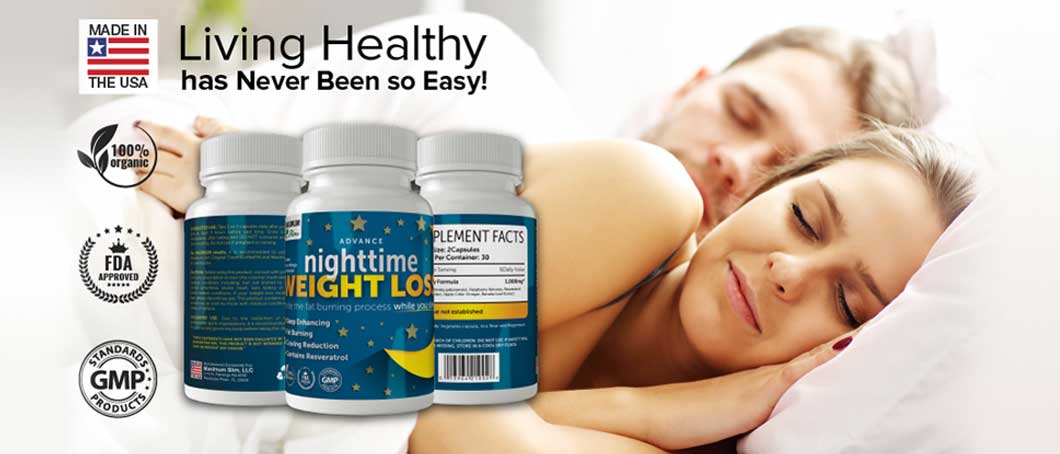 Maximum Slim Advanced Nighttime Weight Loss Formula
Live Healthy while You Sleep....
Maximum Slim Advanced Nighttime Formula contains all the essential natural elements to promote a good night sleep and allow you to awake refreshed and ready for the day.
Maximum Slim Advanced Nighttime Weight Loss's powerful formula turns up your metabolism while you asleep -- effectively changing your resting metabolism into a calorie burning machine... making it perfect for impatient dieters who want to drop those unwanted pounds easier than ever before.
Maximum Slim Advanced Nighttime Weight Loss's complex formula also address one of the most critical elements of a successful fitness goal -- CRAVING CONTROL! Maximum Slims components directly directly attack hunger centers in the brain... making it perfect for individuals who suffer constant food cravings or people who are on a healthier path.


Maximum Slim Advanced Nighttime Weight Loss also positively effects your body's energy center with Melatonin. Maximum Slim's formula allows you to have a restful night, and awaken with more energy with it's sleep enhancement capability.

Maximum Slim Advanced Nighttime Weight Loss can be added to any fitness program. Its unique fitness system is side effect free, causing you to enjoy your regular nightly routine.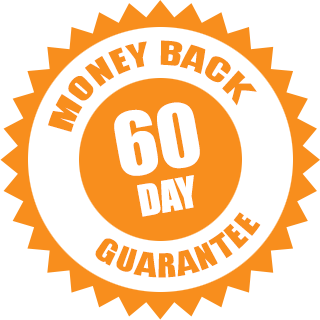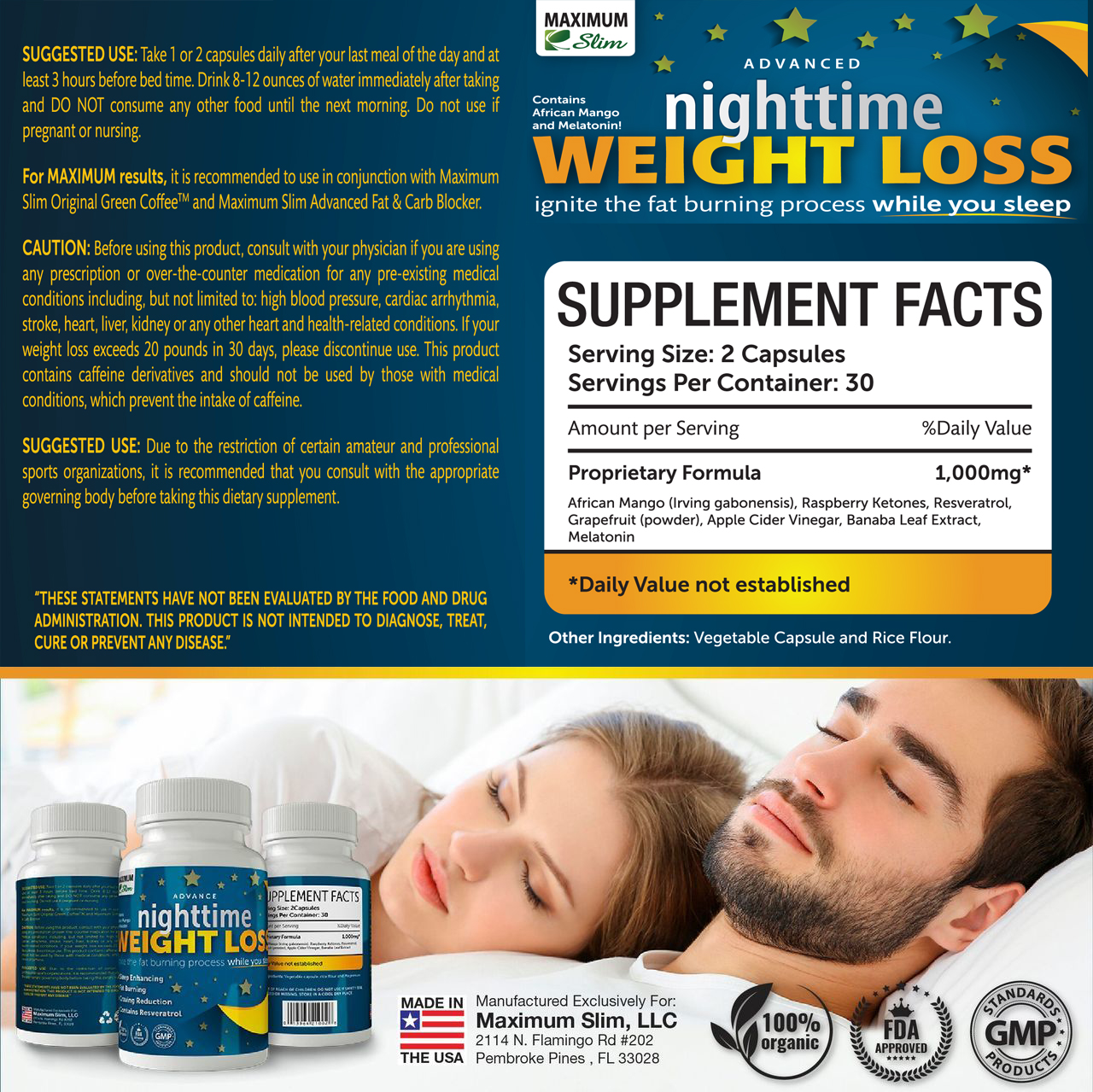 DISCLAIMER:
CONSULT A PHYSICIAN BEFORE STARTING ANY WEIGHT LOSS PROGRAM. MAXIMUM SLIM IS RECOMMENDED TO BE USED IN CONJUNCTION WITH A HEALTHY DIET AND EXERCISE PROGRAM. RESULTS VARY DEPENDING UPON STARTING POINT, GOALS, TIME, AND EFFORT. CONSEQUENTLY, MAXIMUM SLIM DOES NOT GUARANTEE RESULTS.
IMPORTANT: USE ONLY AS DIRECTED. THESE STATEMENTS HAVE NOT BEEN EVALUATED BY FOOD & DRUG ADMINISTRATION. THIS PRODUCT IS NOT INTENDED TO DIAGNOSE, TREAT, CURE OR PREVENT ANY DISEASE. AS INDIVIDUALS DIFFER, THEIR RESULTS WILL DIFFER, EVEN WHEN FOLLOWING THE SAME METHOD. THIS PRODUCT IS RECOMMENDED FOR AGES 18 YEARS AND OLDER. THIS PRODUCT IS SUITABLE FOR WOMEN AND MEN, BUT IS NOT RECOMMENDED FOR PREGNANT OR BREAST-FEEDING WOMEN; CARDIOVASCULAR DISEASE, STROKE PATIENTS, AND ANY OTHER RELATED DISEASES.

****BE SURE YOU ARE GETTING REAL BENEFITS FROM THE REAL PRODUCT. FOR YOUR SAFETY, AVOID ALL FOREIGN BASED WEBSITES AND VENDORS ATTEMPTING TO SELL MAXIMUM SLIM PRODUCTS. ****
.:
2 capsules with 8 ounce of water 10 minutes before dinner or last meal